BEST PRACTICES - SHIPPING and RECEIVING TIPS
WHEN SHIPPING & RECEIVING FREIGHT Logistxs handles a lot of freight, everyday. We have collected quite a few do's and don'ts over that last 3 decades. Take our advice to heart and you should experience better, trouble free, freight moves. Check out and print our SHIPPING & RECEIVING TIPS SHEET [HERE]

WHAT IS MEANT BY INSIDE DELIVERY?
.........the standard carrier assessorial – inside delivery - can be a misnomer.
When freight is delivered to a residential address, inside delivery for most carriers, indicates moving the pallet to the driveway, porch or garage. Drivers will not take freight inside a home. Stairs or inclines also will prevent drivers from performing an "inside delivery". Many carriers have policies prohibiting drivers from even attempting an in-house delivery. This policy is to avoid complaints that the driver tracked in dirt, the freight itself may be 'dirty', damaged walls or doors and similar homeowner complaints. Also, there may be liability concerns, if an incident, accident or injury occurred inside a home. Therefore, it's in every party's best interest that the freight be delivered to a convenient outdoor location. You should advise your consignee that they should be prepared to handle freight from an outdoor location to an inside location if necessary. Planning for this is imperative BEFORE the freight is delivered to a residence. If the carrier "was prepared for an inside delivery, and it was not possible, you will still be charged for that assessorial. As an example: truck arrives, house has steep driveway up to or down to the garage. There may be a step or two to get freight onto the porch. Driver deems that a standard "inside delivery" is not possible, carrier was prepared, consignee was not, charge stands.

STAFF
Our experienced staff of transportation professionals become part of your team and are dedicated to getting your freight moved on-time, providing you with the peace of mind needed to get on with your regular business of the day. We believe in keeping it easy for you, while we grind through all of the necessary steps required to get your shipment completed.
EXPERIENCE
Taking advantage of our know-how, gets your freight moved in the time required and with a carrier specifically chosen to match your order and budget. We start your order process by asking you all the right questions. From that point our experts take over the management of your shipment. At your option, we let you know how things are moving along in the process, or simply one call after delivery.

FREIGHT PAYMENT SERVICES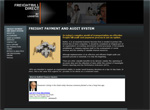 For a detailed explanation, we have created a website devoted to this SERVICE.

[CLICK HERE]


Our state of the art software, designed and developed by FPI in Point Pleasant NJ, affords the client one of the most advanced freight management systems available in the marketplace. Like all other freight payment programs, Logistxs pays the freight bills. The simalarity ends there. The primary benefit of a freight audit and payment program, is that it supplies meaningful information to the client, to be used for tracking and identifying areas for cost and service improvement.

The remarkable flexibility of the system allows data to be submitted to the client, in a way that is important to their business model. Information must be entered into the system in such a way as to construct the analysis necessary to produce specialized reports. Logistxs managers working with our database specialists, will create all of the necessary reports for the client to monitor costs and better manage their business.

Whether the client chooses to use Logistxs as part of an overall freight management program, or as a seperate function to audit and pay freight bills, the same reporting advantage is available. This is a superior product.
INTERNET SHIPMENT DETAILS
Want to check your shipment details on-line? No problem. Log in to our website and view the delivery details. It just doesn't get any easier.