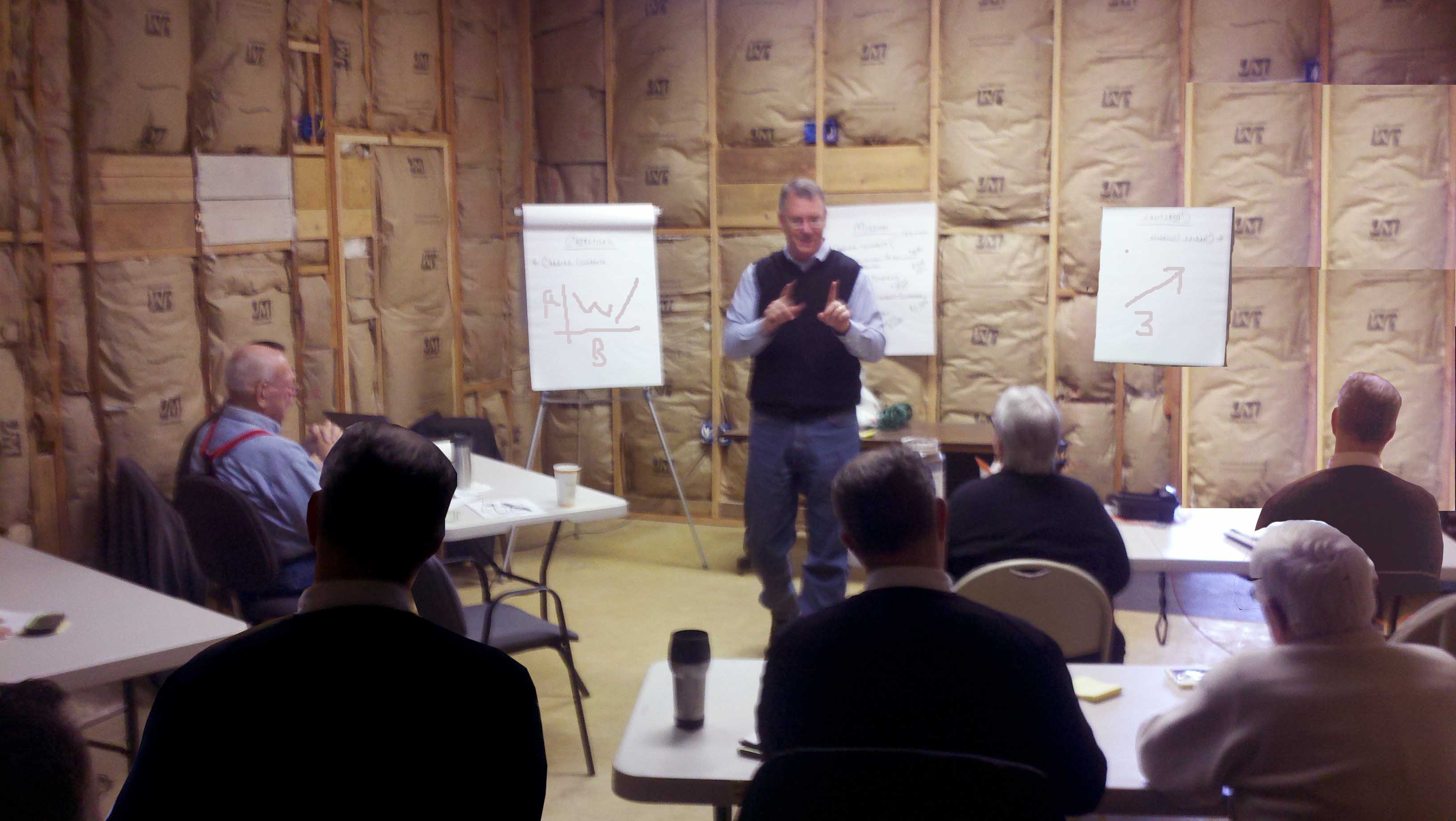 2013 - 2014 EVENTS & NEWS
In preparation for a banner 2014, our managers spent a day doing goal setting, strategizing, and team building. This was done under the expert guidence of TransStrategy Partners.
Expert coach and strategist, Joel McGinley, guided us through the day long series of engagements.
We hosted the meeting in-house in a conference room in the process of being re-built. Thanks to our managers and Joel, we feel much better prepared to move into next year with a great plan to work with.
THEN (1986) AND NOW
Way back in 1986, using computers capable of running most small businesses were out of the question because mainframes were still being used for any serious business application. Although PC's were just starting to catch on, they were not practical yet. So Logistxs began operations with typewriters, cork boards, telex machines, corded telephones, LED calculators, and ledger sheets. Paper and pencils and pens.

Oh My!

Once reliable business PC's entered the scene, Logistxs quickly realized the advantage and adopted the new technology and really never looked back. The company used the new technology for order processing, accounting, and scheduling.

Today, Logistxs operates state of the art systems and through the use of new internet portals and communication technology, the company can offer superior control over customer freight management.

In 2007, Logistxs acquired Journey Freight, a alcoholic beverage and spirit transportation brokerage firm. Today Journey (via Logistxs) moves millions of cases of wine and beverages throughout the United States.

In 2014, Logistxs fully integrated Journey into the Logistxs operational group. Now, simple call Logistxs for all your beverage needs.
Company History
Logistxs was conceived and founded by Michael Zito, in 1986. Having been in the transportation industry for 22 years, Mr. Zito felt that there was a necessity to make some changes. His strong desire to launch an organization dedicated to achieving his new concepts in customer service and carrier management, would represent the direction of the new company. Logistxs Inc. operates in Hackettstown, New Jersey as an industry respected non-asset based 3PL (third-party logistics) company. It handles over-the-road truckload shipments on vans, reefers, and flatbeds with LTL or full load shipments. Being a multi-dimensional transportation broker with a vast pool of resources, it provides a variety of customers with the quality service they require.
With service always in the fore-front, Logistxs emphasizes that time critical shipments are their specialty. Our personnel are well prepared to handle all your transportation needs, whether critical loads or TYT (take-your-time) freight movements.

You will find the customer service representatives prompt and honest in their response to customer needs. Of course, this is done at a price - well below the transportation industry's normal rates.
Affiliates

T.I.A.
Transportation intermediaries or third party logistics companies (3PL) act as the facilitators to arrange the efficient and economical movement of goods.

CSCMP
Council of Supply Chain Management Professionals (CSCMP) is the leading source providing education, research, networking, career growth and best-practice data to the supply chain management profession.


Special Links

The Credit Source for Transportation
Ansonia Credit Data is the leading alternative to traditional providers of overpriced and outdated credit reports. With no set-up or annual fees, and no long-term contracts, our reports feature easy-to-read, real-time access to a global database on companies of every size, industry and market segment.
Internet's Number One Directory
for Freight Transportation.



Related Sites

US D.O.T.
US Dept. of Transportation
truck safety website

Commerce Science & Transportation


The U.S. Senate Committee on Commerce, Science, and Transportation



US Trucking Companies Directory -

Directory of trucking, logistic and moving companies across USA. Offers companies' services and contact details.